News
I am honoured to become a member of the COPSS Leadership Academy. Looking forward to the next three years!
Nicolai Meinshausen (ETH) and I have written a new book on mathematical games. The illustrations are done by Malte Meinshausen.
David Sontag (MIT) and I have been program chairs for UAI 2020 Great to see how much work reviewers, area chairs, and many others were putting in to help shaping a successful conference. We will be general chairs for UAI 2021.
Currently, I am AEing for IEEE Transactions on Pattern Analysis and Machine Intelligence (since Jan 2021), SIAM Journal on Mathematics of Data Science (since Jan 2020), Annals of Statistics (since Jan 2019), and Journal of Causal Inference (since Jan 2021).
Research
Keywords: causality, computational statistics, machine learning, robustness, independence testing.
My work focuses mainly on causal inference: we try to learn causal structures either from purely observational data or from a combination of observational and interventional data. We therefore develop both theory and methodology. Our work relates to areas like high-dimensional statistics, computational statistics or graphical models. It's an exciting research area with lots of open questions!
Most of the publications are also on Google Scholar.
Open Positions
Open positions are announced on https://www.math.ku.dk/english/about/jobs/. All details can be discussed during the application process. My apologies that I cannot answer to all individual emails before the deadline.
Research Group
Book on Mathematical Games
We have written a book on mathematical games that will appear at MIT Press.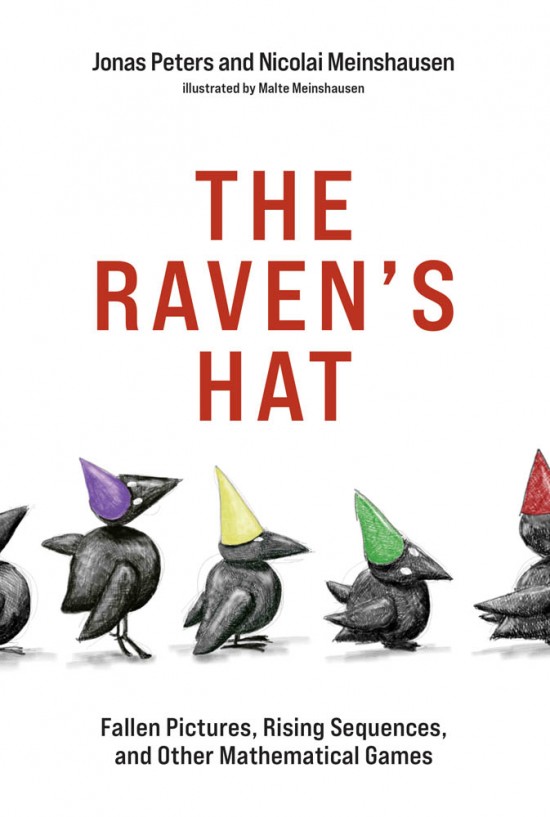 Jonas Peters, Nicolai Meinshausen: The Raven's Hat: Fallen Pictures, Rising Sequences, and Other Mathematical Games
Book on Causality
We have written a book on causality that has appeared as open access at MIT Press. In July 2018, it was awarded the ASA causality in statistics education award.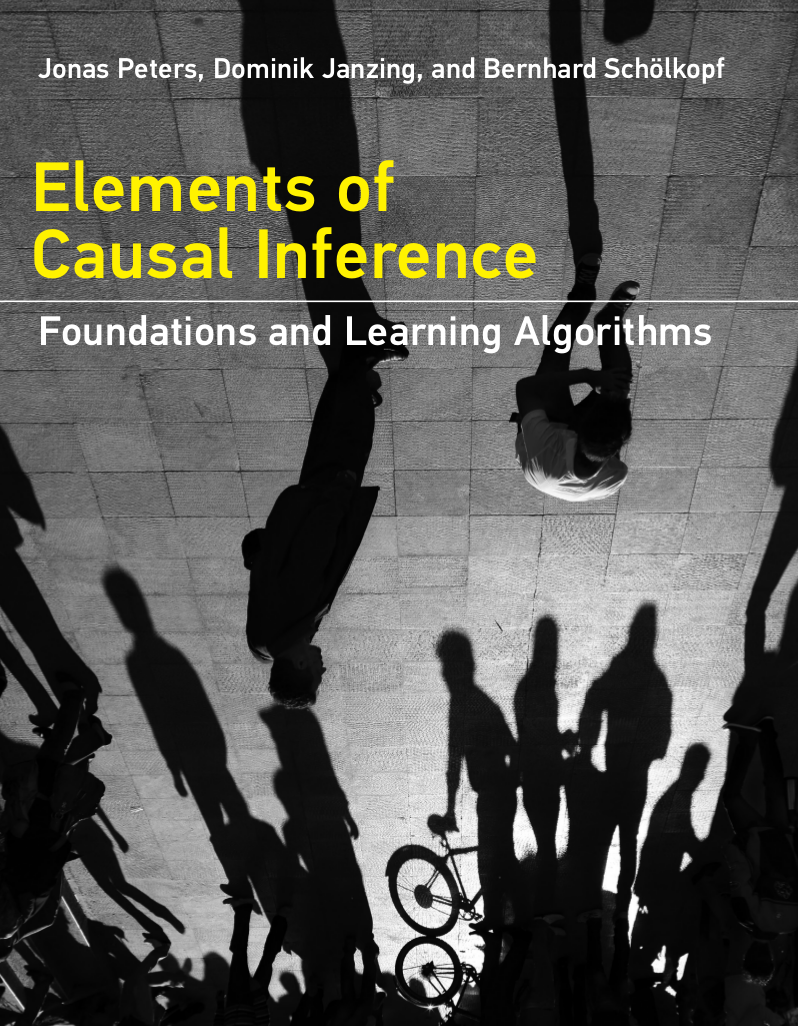 Jonas Peters, Dominik Janzing, Bernhard Schölkopf: Elements of Causal Inference: Foundations and Learning Algorithms
The pdf can be downloaded for free from the MIT Press website (look for "This is an open access title" on the left-hand side).
Causality Script
I have written a script on causality. Almost all of it made it into our book. It is a bit shorter but less polished. It can be downloaded here.
Popular Science
Scholarships and Awards
Guy Medal in Bronze, awarded by the Royal Statistical Society (2019), ASA Causality in Statistics Education Award (2018; with D. Janzing and B. Schölkopf), Teacher of the year at the faculty of SCIENCE, University of Copenhagen (2018), Member of the Junge Akademie (since 2016; board member since 2017), Marie Curie fellowship (2013--2015), ETH medal for an outstanding PhD thesis (2013), scholarhsip of the Studienstiftung des deutschen Volkes (2004--2008), UNWIN prize and election to scholar (Downing College, Cambridge) (2007), European Excellence Programme (DAAD), Kurt-Hahn-Trust, Hölderlin Programme (Allianz) (2006--2007), Deutsche SchülerAkademie (2001)
CV
Jonas is professor of statistics at the Department of Mathematical Sciences at the University of Copenhagen. Previously, he has associate professor at the same department, a group leader at the Max-Planck-Institute for Intelligent Systems in Tuebingen and a Marie Curie fellow (postdoc) at the Seminar for Statistics, ETH Zurich. He studied mathematics at the University of Heidelberg and the University of Cambridge and did his PhD both at the MPI Tuebingen and ETH Zurich. He tries to infer causal relationships from different types of data and is interested in building statistical methods that are robust with respect to distributional shifts. In his research, Jonas seeks to combine theory, methodology, and applications. His work relates to areas such as computational statistics, causal inference, graphical models, independence testing or high-dimensional statistics.
If you are interested in a full CV, please send me an email.
Alumni
David Buerge (Master)
Rune Christiansen (PhD)
Anton Hansen (Master)
Christina Heinze-Deml (PhD -- co-supervised with N. Meinshausen)
Anna Laksafoss (Master)
Phillip Mogensen (Master)
Rikke Nielsen (Master)
Mads Pedersen (Master)
Niklas Pfister (PhD -- co-supervised with P. Buehlmann)
Margit Riis (Master)
Matthias Stahlberg (Master)
Radu Tanase (Master)
Mads Thoisen (Master)
Memberships
Bernoulli Society, Danish Society for Theoretical Statistics, IMS, ISI (elected), Royal Statistical Society